Benjamin married Margaret Shilling in 1815 or 1816 in Pennsylvania. Margaret died March 26, 1876. Benjamin and Margaret had eight children, the three oldest, John, Elizabeth, and William were born in Pennsylvania. In 1824 the family moved to Stark County, Ohio. Margaret was born in Stark County, and most likely Levi, and Amanda were also. Esther and Daniel were born in Ashland County, Ohio.
Below is a copy of the Land Grant purchased by Benjamin Drudge on September 22, 1826.
John Drudge was the first to leave Ohio, and move to Indiana. Soon after we find William and Levi also in Indiana. All of Benjamin and Margaret's children are burried in and around the counties of Kosciusko, Fulton, and Wabash. Benjamin and Margaret are both burried in Nichols Cemetery, Kosciusko Co., Indiana, near each other but not together.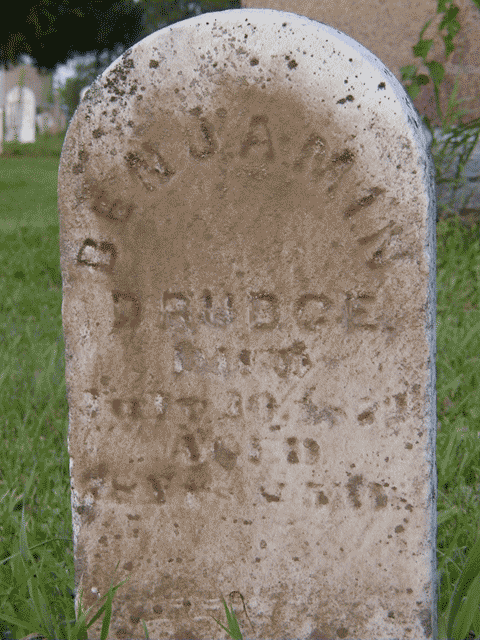 The Following Is An Account Of Benjams Death.
(Rochester Union Spy, Thursday, August 1, 1872. contd)
FATAL ACCIDENT
. On Monday last BENJAMIN and WILLIAM DRUDGE. father and son, both residents of this county, were returning from Wabash. and when near the village of Roann, the old gentleman was thrown out of the wagon and killed. The accident was caused by fast driving. The unfortunate man's neck was broken, and death was instantaneous.



John Drudge, born October 1816, married Susannah Wiltrout December 29, 1840
Elizabeth Drudge, born 1821 married Horrace Richards January 28, 1852
William Drudge, born August 29, 1823, married Anna Lehman November 29, 1849
Margaret Ann Drudge, born June 14, 1824, married John Fike June 30, 1842
Levi Drudge, born November 13, 1828, married Catherine Harrold April 5, 1852
Amanda Harriet Drudge, born July 26, 1830, married John T. Wideman January 9, 1853
Esther Drudge, born January 6, 1834, married William Yates may 13, 1852
Daniel Drudge, born July 6, 1834, married Cathrine Layman September 12, 1852