Joseph Henry Dredge
Youngest Son of Henry W. Dredge
Joseph, the youngest of eleven children, was born May 10, 1831 in Cumberland County, Pa. Joseph Henry Dredge married Isabella K. French January 4, 1855, in Mercer County, Illinois by Rev. David Bruner, minister of the North Henderson Methodist Episcopal Church. Joseph was living in Knox County at the time of their marriage. Isabella, the youngest daughter of John and Sarah (Young) French, was also born in Cumberland County, Pa. Isabella was born October 27, 1835. Note: interesting how many families found near one another in one area of the country were again found close by in another.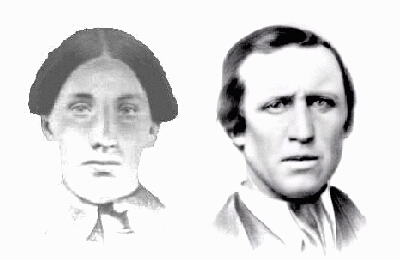 ISABELLA K. FRENCH & JOSEPH HENRY DREDGE
Isabella bore five children, namely;
John Wilson
Henry (Hank)
Sarah Elizabeth
Mary Elmira
Hugh F.
A few days after Hugh's birth, January 5, 1864, Isabella passed away at the age of 28. Joseph, age 31, joined the Union Army (March 22, 1864) as a recruit, Co. F, 102nd Illinois Volunteers, very shortly after Isabella's death. Note: It appears to me that Isabella's death was too much for Joseph to face, and he chose the War as a means of escape rather than face life without his Isabella. He may not have cared whether he lived or died. Baby Hugh died in August of 1864, and is buried next to his mother Isabella. Jacob and Sarah Eckman (Sarah was Joseph's sister) took in three of Joseph's children, John Wilson, Sarah Elizabeth, and Mary Elmira, while Henry lived with Alexander and Hannah Grace Miller (Hannah, his cousin, whose maiden name was French). Joseph mustered out July 8, 1865 at Louisville, Kentucky, later he returned to Knoxville, Illinois. On October 1, 1867 Joseph married Susan Hull Miller, and started all over with a new family. Susan and Joseph had four children, George Elmore, Josephine, Ulysses Sires, and Minnie May. Minnie May was born in Nebraska, where Joseph and Susan had moved to. Joseph died in February 1892.
Everyone should know that Shirley is the source of the records and early history of John Drudge/Dredge.
Thank you so very much Shirley.