Henry Dredge
Second Son of Joseph Henry Dredge
Henry, born in Mercer County, Illinois on April 1, 1858, died on January 29, 1942.
In the spring of 1885 Henry met Clara Jane Hutson, daughter of George and Angeline (Carter) Hutson. Henry and Clara were married February 15, 1888, at the Methodist Parsonage in Knoxville, Illinois.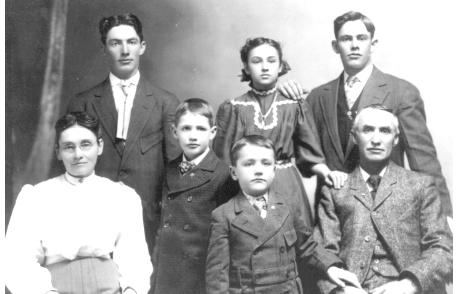 CLARA JANE HUTSON & HENRY DREDGE

From the union of Henry and Clara came five children:

Fred Malcom
Floyd Edgar
Orpha Angelin
Orvalle Henry
George Earl Dredge, born July 18, 1901, married Beulah Mae Wooldridge on April 6, 1922.

George and Beulah had three children:
Shirley Jean
Donald Eugene
Richard Earl

Shirley married Robert Graham, September 15, 1945. They have three children, Bonnie Jean, Joel Allen, and Martha Sue.

Everyone should know that Shirley is the source of the records and early history of John Drudge/Dredge.

Thank you so very much Shirley.