January 7, 2007

Hugh Burton (Tubby) Drudge
born January 07, 1924 died June 07, 1974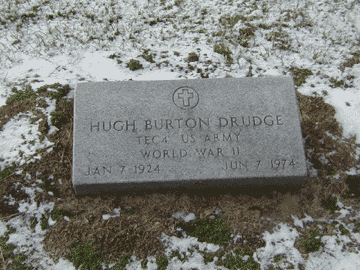 Hugh married Dorothy Huntley March 13, 1948
The following story is one of those little things that is quickly forgotten by future generations, and had I not asked it would be gone forever. Ask those little things before the older generations are gone, and you say "I Wish I Had Asked"
As a child I thought my Uncle Hugh's name was Tubby. When I was much older I suddenly realized this couldn't be his real name, as no one would name their child Tubby. Or would they? I asked my father why everyone called him Tubby. He said, when Hugh was a little boy he was so skinny that everyone joked about it. One day Hugh had had enough of everyone poking fun at him and left the room. He came back with a pillow stuffed under his shirt, and said, "Now Look How Tubby I Am". From that day on, throughout his life, he was Tubby.
The Children of Tubby and Dorthy Were:
Ronald Lee Drudge born January 24, 1949
Katherine Lucille Drudge born April 29, 1951
Randy Hugh Drudge born October 12, 1952
Mark Douglas Drudge born September 02, 1953
Charles Eugene Drudge born July 31, 1956

Was it a coincidence that I created this page today, of all days? "Happy Birthday Tubby"